93 total views
TEXAS TUXEDO
It's Friday (yay!), and I hope you all have had a great week. This week has been a blur because it has been so busy (I thought today was the 9th!). I got out more than usual this week, which hasn't happened in a long time. We had our church small group on Monday, a birthday dinner for a friend on Tuesday, a fashion show at Neiman Marcus on Wednesday night, and a night at home last night. We don't have anything planned for tonight because we are babysitting and doing an overnight, but we are headed to a concert that I am excited about tomorrow night. We are seeing the Black Pumas, but the opening act is what I am most excited about. If you don't know who Abraham Alexander is, here is a link to his music. My favorite song is called, Stay. He is a great friend of my kids, and I will finally get to meet him. He is so soulful!!!
Yeehaw! I am wearing my Texas Tuxedo for the warmer days, gradually showing up (except today and tomorrow!). Even though denim on denim is acceptable in fashion, I sometimes still think about the way it looked in the 80s and 90s, and looking back, it was not so good! Wearing denim on denim is all in the way you pair it. It's essential to nail the proper contrast and shade of denim to make it (Texas Tuxedo) work. I paired a darker denim shirt with lighter wash jeans (both by Veronica Beard). I wanted to show it with the accessories I am wearing now and how I will wear this look when Spring (and my toes can come out).
Speaking of Spring, the fashion show I attended this week at Neiman Marcus discussed and showed the Spring trends, and I wanted to share those with you if you are taking stock of what is in your closet and what you might want to add. Now, I know some of these you might not like, but these are the trends that were shown and mentioned. I linked the exact items they showed except for the chain and the cropped top (I couldn't find those and we are probably not wearing crop tops anyway!).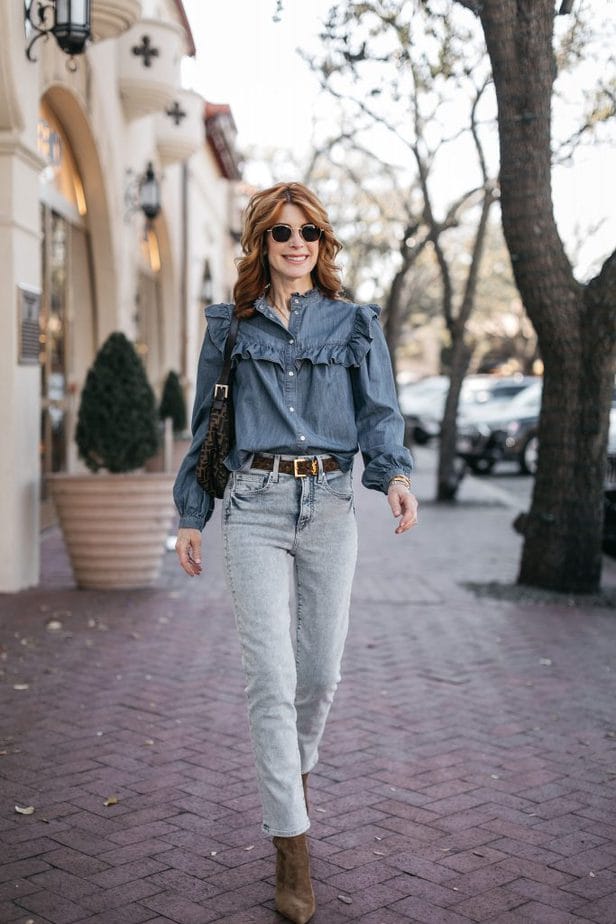 I think I mentioned last week that my Chic at Every Age group was on My So-Called Fabulous podcast by Tiffany Blackmon that aired on International Women's Day. It was such a fun day and a great podcast! She also recorded the Neiman Marcus fashion show that will air on her podcast next week. I hope you all have a great weekend! Don't forget to Spring Forward!
Be well and stay safe! xx
Photos: Beckley & Co
First Look
Shirt (on sale in a few sizes here and a few sizes here) // Jeans // Belt // Boots (similar) // Bag
Second Look Accessories
Belt (to create your own here) // Bag // Sandals

MORE DENIM SHIRTS
News
Dustin Lance Black's miniseries starring Andrew Garfield whispers authentically to an ex-believer like me. By Nadine Smith May 13,…