64 total views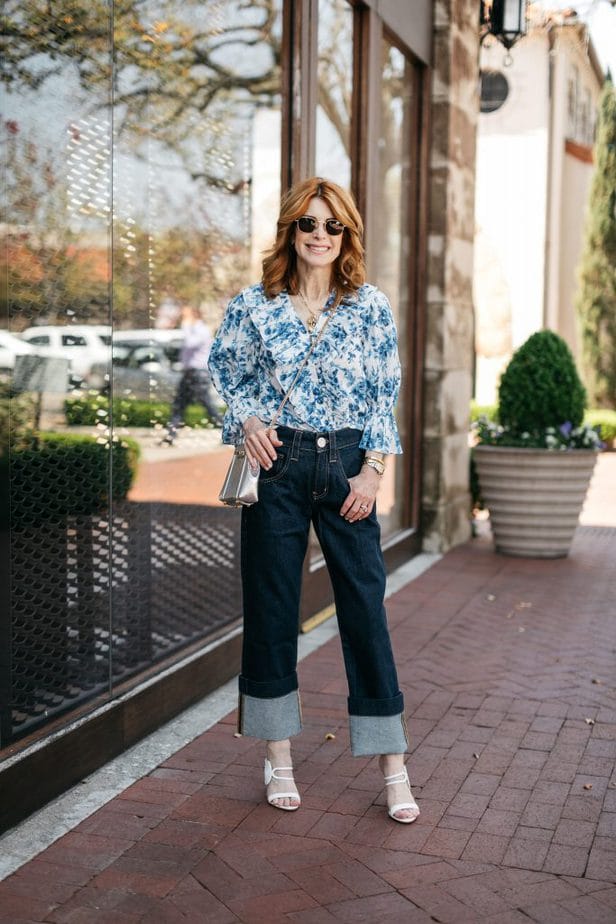 GIRLY TOP AND COOL-GIRL JEANS
Hi, everyone! I hope you all had a wonderful Easter! We had such a great one and so much fun with our family! We had dinner at my daughter's house on Easter night, and my mouth still hurts from laughing. Our little granddaughter is getting such a personality now (she will be nine months tomorrow), and she is going to be a party girl! My mom brought a "special friend" to meet our family. You have to be warned before you come into our crazy and loud world, and he was and did just fine!
I mentioned a few weeks back in this blog post about trying new styles of denim, and I took my own advice and just bought this pair that I am wearing. I know that many of you might not be into these (this pair is not so severe). I, however, saw them on my friend Janet, and she influenced me to try them. I think they are so fun and different! These jeans have an oversized button and exaggerated cuffs giving them a "cool-girl" silhouette. They are made from rigid biodegradable denim with zero-stretch in a dark wash. I paired them with a "girly" top and shoes (I love the juxtaposition) but have also worn them with a tee and sandals. I love a good baggy style jean for summer in Texas. They are just more comfortable than tight skinny jeans. Remember, I'm just throwing out ideas, and you'll either like them or not.
The "girly" top I am wearing is from a brand I have discovered this year called Mille. They have some of the most beautiful feminine pieces, and I love every single one of them. I love that Mille was founded by a Texas native (now in Minneapolis) and that each piece and print is a thoughtful creation. I swear, I could buy one of every print! I own this dress and have this one in my cart as well as this top. I die over all of it, and the prices are not too terrible!
Now that the weather is warmer, I need a tan; however, I am not one to sit in the sun because I fry like a piece of bacon! Have you all tried Tan-Luxe? I am obsessed with their products! I just started using (not in these photos) The Gradual. This is an everyday gradual tanning lightweight moisturizer. It gives a very nice and light (but buildable) color. I am also using The Crème an advanced hydration self-tanner for the face, which offers lasting hydration plus firmer and more radiant skin. Both of these products are so easy to use and no streaks!

I woke up this morning to some bad news about one of my best friends. She was hit by a truck yesterday while biking. Thank the Lord she is alive, but she has so many broken bones and is in bad shape. You never know from day to day, do you? Give thanks every day that you are here!
Have a great day! Stay safe and Be well! xx
Jeans // Top // Bag // Sandals (old, similar) // Sunglasses

News
I want to look shorter and wider said no woman ever. At 5'4″ I like to use proportion and…