56 total views
SUMMER COTTON DRESSES
Hi and Happy Monkeypox Season! I dressed so inappropriately for it in these photos. I should have worn this Farm Rio banana dress for the opening season! I'm sorry, but I couldn't help but say it. What in the world is going on, right? We have to keep a sense of humor a lot these days! I have had back-to-back guests over the weekend and leaving today. I love getting a chance to spend time with friends one-on-one, especially those that I don't see very often. We woke up to very chilly temperatures (for Dallas) yesterday that will continue through tomorrow after almost 100 degrees last week. It's so nice to have a reprieve, but it's back to the heat later this week, and time to pull out the summer cotton dresses!
I wear a lot of jeans in the summer (well, all year round), but I am determined to wear more dresses because it's fricking hot here all summer. This is the year of the dress because there are so many adorable ones available. A cotton dress is the way to go in the summer! I bought the black one a couple of months ago in Los Angeles at the Staud boutique. I love this dress and just ordered it in white (on sale) because the fit is so good, and I think it is so chic! Did you know that wearing black clothing is actually more cooling than white? White clothing reflects the sunlight but also reflects internal heat back towards your body (your science lesson for the day!). This dress reminds me of one I bought several years ago from a brand called Co that was twice as expensive. I like this one better. This dress can go from day to night with a quick shoe change and keep you cool as a cucumber.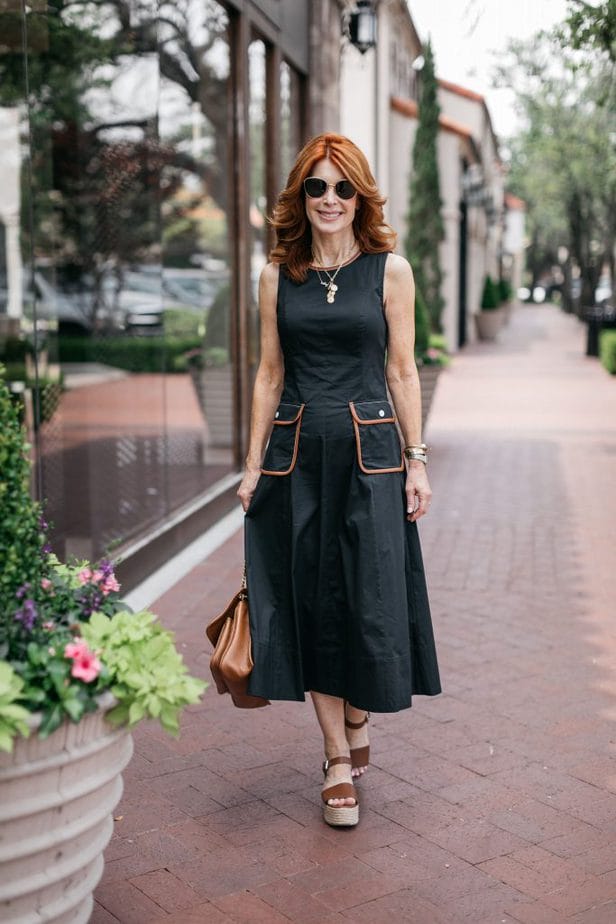 Dress // Wedges (similar) // Bag // Sunglasses (similar)
The dress below is one that I showed on my Instagram a few weeks back from Chicos. I'm not usually a bright pink (comes in black too) kind of girl, but I adore this effortless safari style (with pockets) and have it in a khaki color from last year. This is a super easy dress to throw on and wear with wedges or a flat sandal, and it is nice that it covers your arms. I like the self-tie with this dress, but it can be worn without the belt or with adding your own. Oh, it's on sale too! You all know how much I love this straw bag (about three years old)! It sells out every time it's back on Shopbop. It's there now, and I would snap it up if you love it! I carry mine all of the time!
I was supposed to shoot for the blog today, but the weather has thwarted that plan. I have a fun girls' afternoon/evening get-together, though; that will be a lot of fun. We have two events to run by and then dinner. I'm spending the rest of the week trying to re-organize my life after a couple of crazy and busy weeks.
I hope you all have a great day! Be well, and stay safe! xx
Photos: Beckley & Co
Dress // Earrings // Wedges (similar) Bag (similar)

News
Sam, 24, talked to GQ about sexting, long-distance relationships, and wanting to have a threesome. By Sophia Benoit August…