102 total views
I've been keeping my eyes open for some lightweight jean-alternative pants for summer. They have to be comfortable, and as easy to style as my favorite jeans. These lightweight utility pants tick those boxes; worn here in neutral summer outfit.
A cool & casual utility pants outfit
A couple weeks back, a window display at Banana Republic prompted me to pop inside for a look. They've mostly been off my radar; for a while they seemed to be going heavily into the Ruffly & Flouncy™ direction. I didn't have time to go through the entire shop, but what I saw prompted me take a look online soon after.
The styles that I liked were almost all offered in Petites, which was a pleasant surprise as so many brands seem to have cut back. (Also lots of options for Tall sizes!) I ordered these Slim Utility Pants to try, and really like them! Cargo pants and utility pants are a classic style that's also on trend this season.
These are lightweight and my usual size (Petite 6) has a slim but not snug fit, and they wash well. (This is how they looked right out of the dryer.) Fabric composition is 98% cotton/2% Spandex, so they have a little give. They're available in several colors in Misses 0-20 and Petite sizes.
I've also just ordered a pair of these barrel pants to try, as well as a couple of tops.
The top is one of the linen "muscle" tanks from J.Crew, and is a comfortable option for warmer days. (It also layers nicely under a sweater or jacket.) I'm wearing an XS, and as you can see it's still plenty roomy. This one's been washed as well (line dried). Even though the skin on my arms isn't smooth, I've decided to say "the heck with it" and just go sleeveless when it's a comfortable option.
When accessories make it an Outfit
I've always loved simple, minimalist looks, but they can look a little….bland and incomplete without some finishing touches. During summer when it's too warm to layer, I often rely on accessories to help my outfits look pulled together.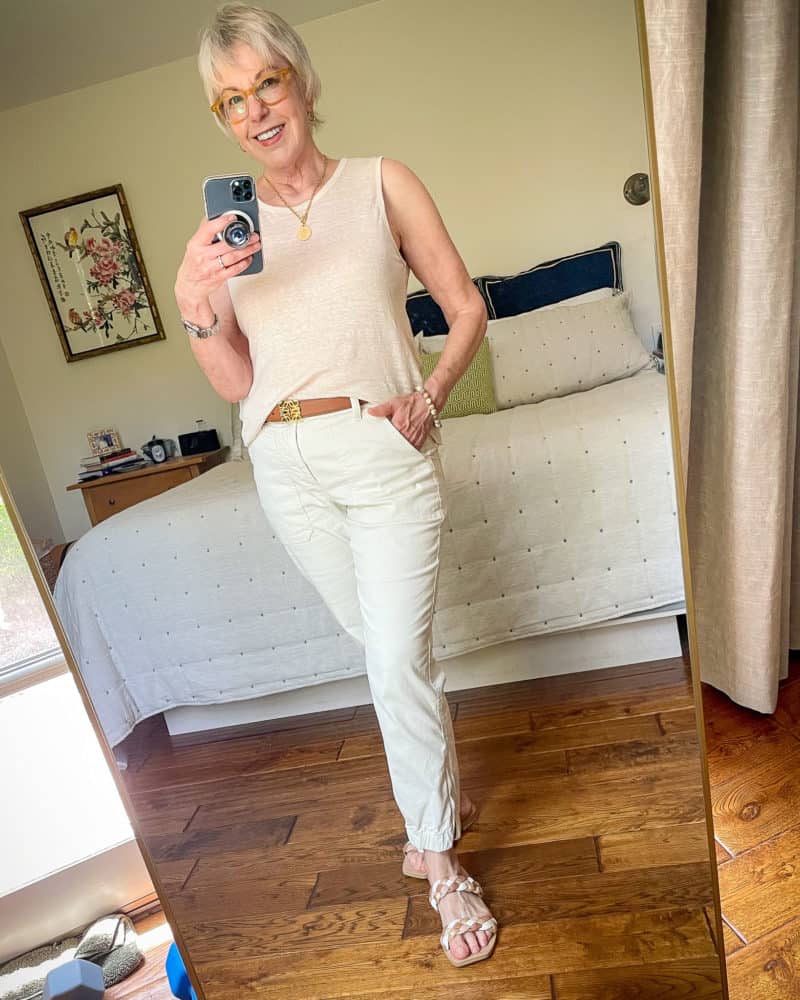 I've recently added a new accessory to the stable…a leather belt! I think it's the "secret sauce" in this outfit that adds some structure and polish. This belt is from Loewe and a bit spendy, but it was the first belt I've tried in ages that is Just Right. The "anagram" buckle adds an interesting detail, but doesn't scream LOGO.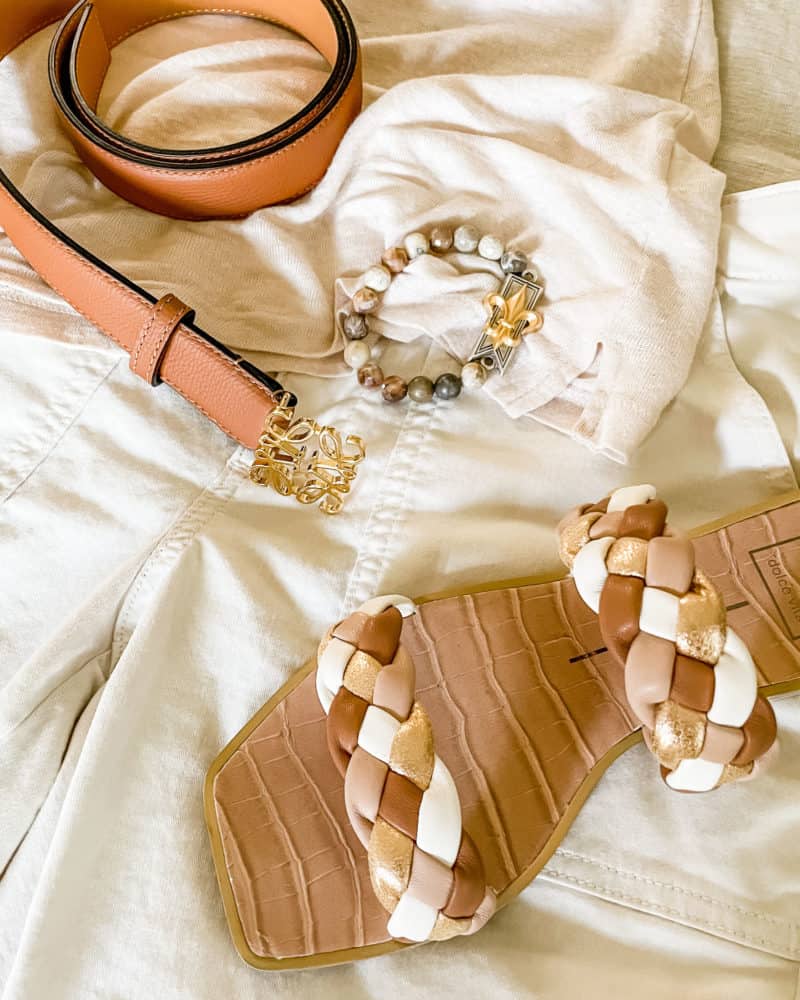 Here are a few more good-looking leather belts that are more budget-friendly:

You can also add interest to simple summer outfits with a patterned top, or a fun straw or rattan bag.
Do you have favorite accessories you rely on in summer to pull outfits together?
Affiliate links in posts may generate commissions for unefemme.net. See my complete disclosure policy here.
News
IMAGE BY JOHN HAIN FROM PIXABAY We're all wired to want to grow toward the highest version of ourselves.…