63 total views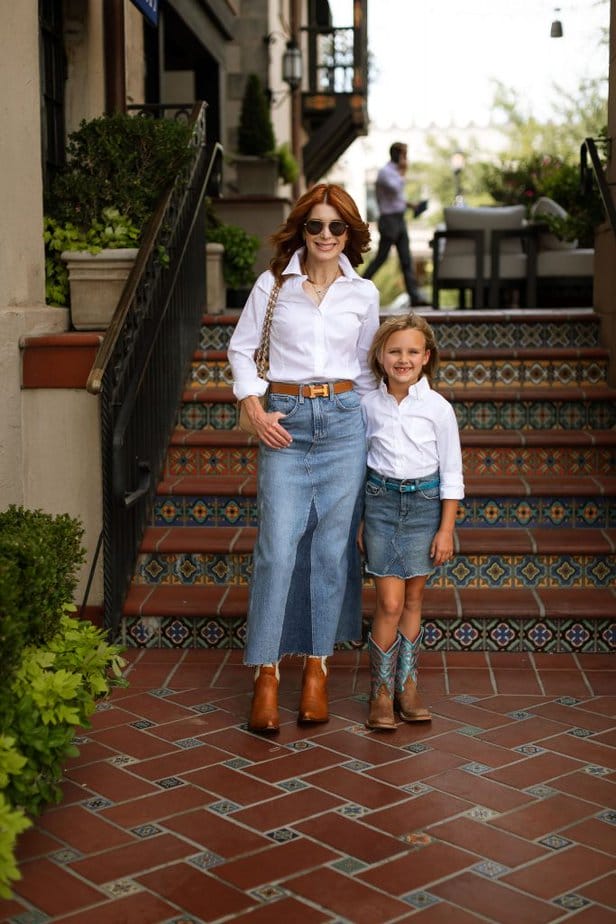 WHITE SHIRTS AND DENIM SKIRTS
Hi, everyone! I hope you all are doing well! Holy Moly, buckets of rain finally fell in Dallas! There was a lot of flooding yesterday, but boy, did we need the rain! Three Cavalier King Charles Spaniels at my house did not want anything to do with it either! I have one that is terrified of storms. Look who is making a guest appearance on the blog today! My granddaughter, Evie! Is she not the cutest thing ever (and a total natural)? They've been back in Dallas for over two weeks, and she had already asked me when she could be on the blog! I told her she could be on it anytime, but we did need to pick an outfit to feature. She came up with the denim skirt idea (I'm so proud!). So, here we are in white shirts and denim skirts.
Evie and her family had been in Aspen for a bit this summer and then went to Montana with us. She got these super fun cowboy boots while she was in Colorado. I had just ordered the long denim skirt I am wearing, and we found a precious one for her. The skirt I am wearing is from Joe's Jeans, and it is a great piece for fall. I love the darker panel and frayed bottom. There is a lot of western influence in fashion right now, and this skirt fits the bill paired with a pair of cowboy boots (which I just purchased in Montana). A white (or any color) button-down is a perfect shirt to wear with a denim skirt, in my opinion. I remember my SMU college days and the Phi Delts fraternity boys. They all wore Levis, boots, and white button-downs. It was such a classic look, and it still is!
Now that we've established that a white shirt and boots look great with a long denim skirt, what else do you wear with it? I would pair denim, long or above-the-knee skirt with a white tank and cropped jacket, a lightweight sweater, a cute puffed sleeve blouse, or a mesh turtleneck. What about shoes if you don't own a pair of cowboy boots? I would wear a platform sandal, bootie, or loafer.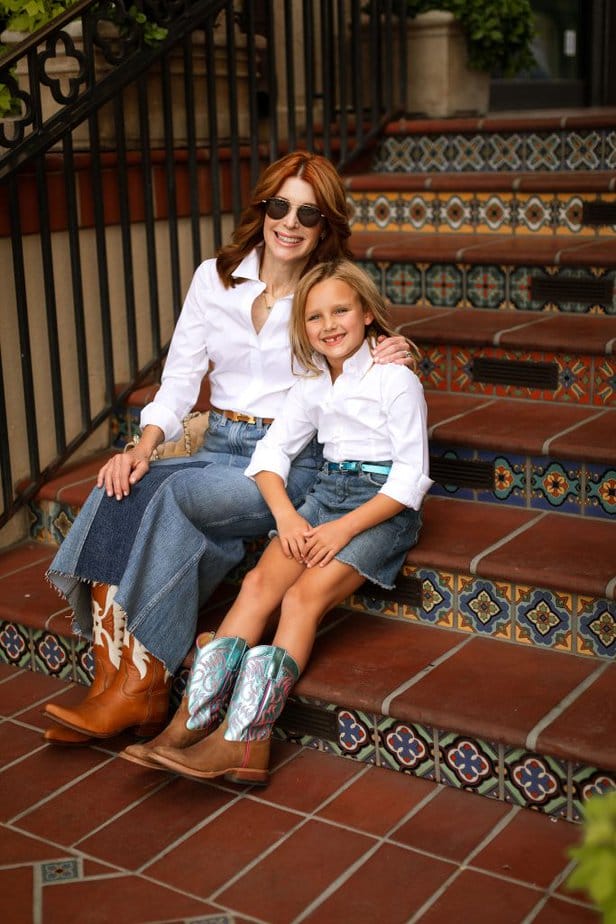 Today is our grandkids' last day of summer, and it's back to school tomorrow. It's so fun to watch all of this but not be totally responsible. I have a short week because I will be heading to LA on Friday. I think I will be going a lot because my daughter and fiance (woohoo, they got engaged last week!) have decided to stay out there. I am missing that littlest granddaughter and need to see her. I'm celebrating my birthday (which was last week) with friends tomorrow night, and then the week will be pretty much over for me because I get my hair color on Thursday (which takes a long time) and have to pack for a week.
I hope you all have a great day! Stay safe, and Be well! xx
Photos: Beckley & Co
White Button-Down (old, but similar) // Skirt // Belt (old, don't know anything about this website, but for what it's worth) // Boots (similar) // Bag (similar)
Evie's Outfit- White Button-Down // Skirt// Boots // Belt
News
Happy Tuesday! Today, I am going to return to an old discussion…can every day mature woman become elegant women.…