40 total views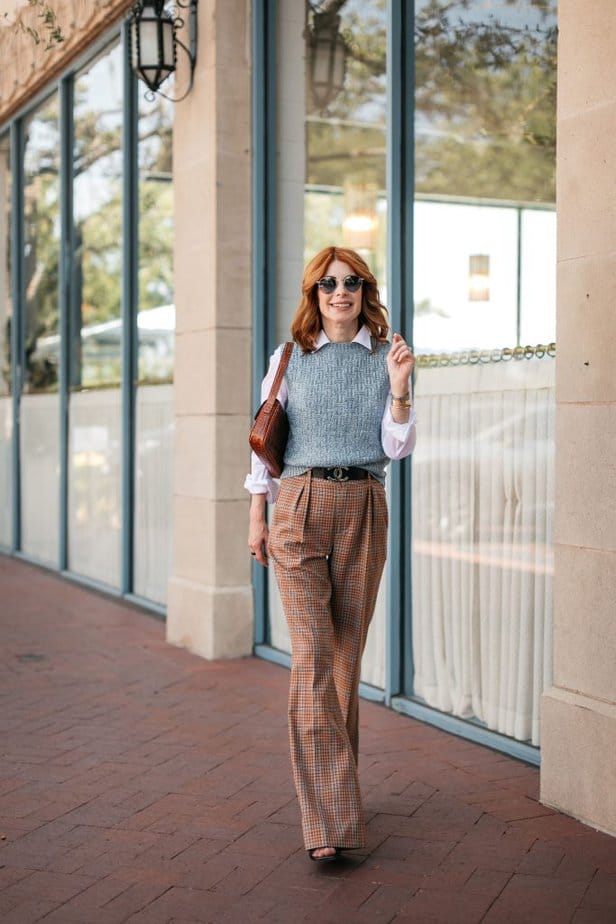 TRENDING- PUDDLE PANTS
Hello, everyone! I hope you all are doing well! We went to Shreveport on Saturday to attend a wedding. It was a friend that I have known since the seventh grade. All through junior high and high school, we were besties and were in each other's weddings. She became a widow about four years ago but found love again! It was such a sweet ceremony, and the reception was beautiful. I have never seen so many flowers! There were two covered archways, and every table had a gorgeous arrangement. It was still hotter than Hades in Shreveport, and we returned to it in Dallas. We are getting a bit of a reprieve this week! YAY!
Today I am showing a trend that some of you might not be on board with. How do you all feel about Puddle Pants? What is that, you ask? As the name sounds, they are pants that puddle at the hem around your feet. If you are a petite woman, you probably have been experiencing them for years but have found a tailor to help you with the hem. I am 5'6″ and am a little happy about this trend, only because I never remember to take my pants to the tailor, and then when I am ready to wear them, I can't (or I go with the puddle!). Now I can let them pool at the bottom a little and be chic rather than sloppy! Puddle Pants can be dangerous (no tripping allowed) if you don't get the right shoe or boot. The trick is to make sure the hem hits right at the end of your heel to get the puddled effect so that you don't trip over them. Even athleisure brands make them (but they sell out fast!).
I decided to try the trend with these plaid pants because, as I said, I forgot to get them hemmed before wearing them (story of my life!). I wore them with this shoe, and I actually like the way it looks. The hem is hitting right at the edge of the heel. I know this isn't for everyone, but we all can choose to try a trend or not. I paired the pants with a white button-down and a sweater vest. This is a fun look when you want a break from wearing jeans. Will you try the trend, or have you already been doing it like me (forgetting to get your pants hemmed!)?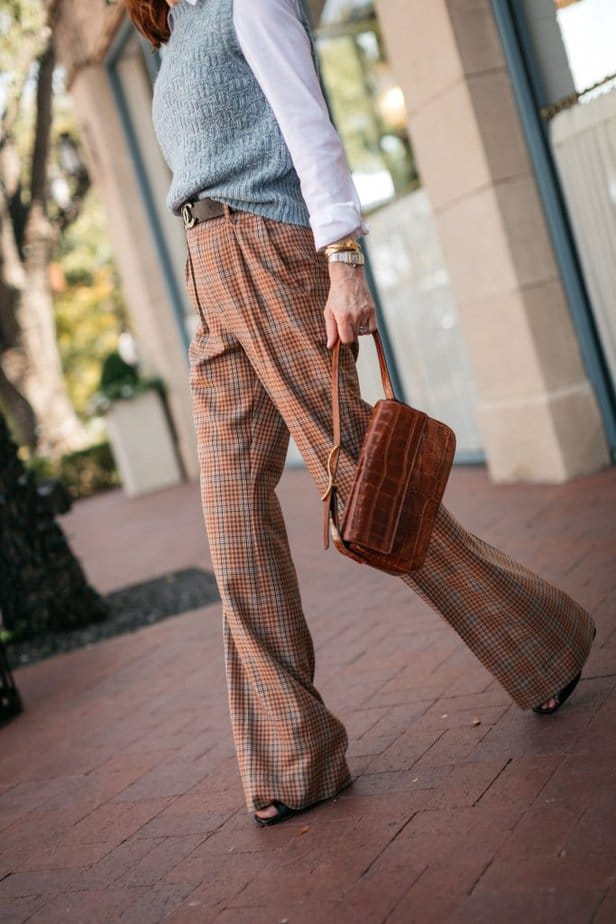 Today starts a hectic week for me! LTK (Reward Style) conference kicked off last night with a western chic theme cocktail party. I am headed to the conference this morning, will be there most of the day, and will head home for a quick costume change. There will be another party tonight and more classes and speakers tomorrow. Each day consists of speakers, classes, a nice lunch, and brand meetings. Of course, yours truly is probably the second oldest (if not oldest) person there! It's a great people-watching event!
Have a great day! Stay well, and be safe! xx
Photos: Beckley & Co
Vest // Shirt // Pants // Shoes // Belt (similar here and here // Bag

News
IMAGE BY JOHN HAIN FROM PIXABAY We're all wired to want to grow toward the highest version of ourselves.…