13 total views
LIGHTENING UP FOR SPRING AND TRENDS TO GET EXCITED ABOUT
Happy Valentine's Day! I hope you all had a fantastic weekend and a great Monday! Did you watch the Superbowl? I honestly did not have skin in the game (no pun intended!), but we did watch (sort of). I didn't see one commercial all the way through, though. Did you have a favorite, or did you even think they were "Superbowl" worthy? What about Rihanna's halftime show? What did you think? Maybe I have PTSD from the last two years, but it looked like a bunch of people in Hazmat suits running around a covid spike protein! Strange where the brain goes! Football is officially over for a while, and I know the guy's in my family are sad about it.
Mother Nature has been teasing us a bit, hasn't she? One day it's freezing cold, and the next, almost seventy degrees (here in Texas, at least). If you are like me, I am ready for Spring and lighter colors after Groundhog Day. I've been looking at many trends from fashion week, and there is a lot to get excited about. A few things I am enthusiastic about, and hope you will be too, are the following.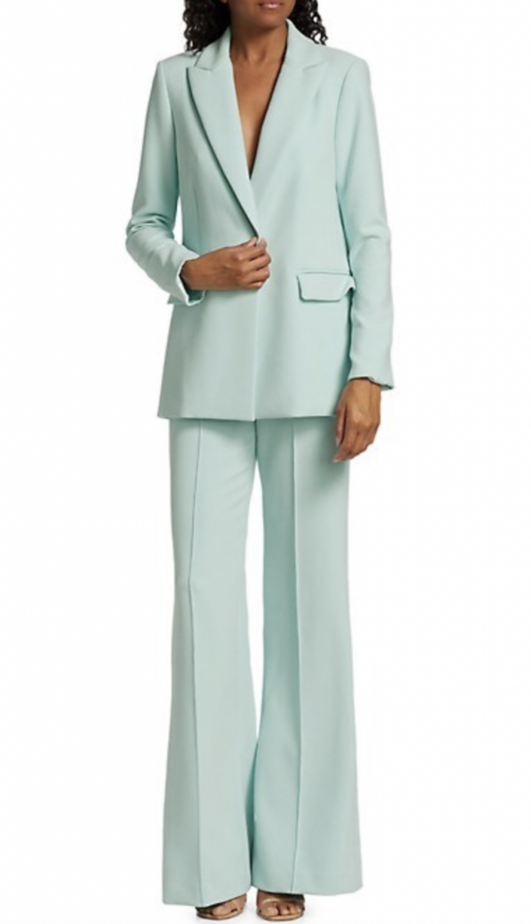 The trends from fashion week that I will probably never wear are sheer dresses and cut-out pants. No one wants to see me in either of those; plus, there's a lot of maintenance that would have to happen before wearing them…if you know what I mean! ! I'm a little iffy about exaggerated 80's shoulder pads. Would you repeat that trend? I don't mind a smaller shoulder pad, but I look ridiculous in an exaggerated one.
I'm starting to lighten up my wardrobe in preparation for Spring. I got this fabulous leather blouse/ jacket in cream that I have been wearing a lot lately. It's lightweight but will keep you warm on a chilly day. It's a little oversized, and I like wearing it over a tank or sweater. I got the XS but probably should have gone down to the XXS. The good news is that I can wear it over a heavier sweater. If you are in between sizes, I would size down. I found a good dupe in faux leather here! I paired it with a knit tank in a beautiful aqua blue (which comes in other great colors) that I just bought for Spring and a high-rise pair of bootcut jeans that I wore during most of my time in LA. I have been wearing these boots non-stop as well. I know they are pricey, but they are so comfortable, I can wear them all day, and I will have them for a long time! Cost per wear!
I am headed to my trainer (weights) this morning. I haven't been in over three weeks, and I know what that means. My legs will shake when I leave, and I might have difficulty sitting tomorrow! I am also running by my mom's new husband's place today for a little VD concert. That should be cute! Do you have plans for Valentine's Day? My valentine is taking me to dinner at our favorite place!
Wishing you all a lot of love today! Be well and Stay safe! xx
Photos: Heather Johnson
Leather Shacket // Tank // Jeans // Boots (similar) // Belt // Bag (similar)

News
You've probably heard of REI, Backcountry and even Dick's Sporting Goods as some great online retailers where you can…