12 total views
The following article is excerpted from Healthy Aging® Magazine. To continue reading this article and more like it, subscribe to Healthy Aging® Magazine, the lifestyle magazine that is all about following your passion and what you can do rather than what you can't.
The beauty of the Mediterranean Diet is not only is it good for your health, but it is sustainable for the long term. It's not a fad or unreasonable plan that you will quickly drop because it is unnatural for your body.
Taking the Mediterranean Diet to the next level are cookbook authors Serena Ball, MS, RD, and Deanna Segrave-Daly, RD, who each have over 20 years of culinary nutrition experience. Together, they are the authors of The 30-Minute Mediterranean Diet Cookbook, and The Easy Everyday Mediterranean Diet Cookbook. And now, The Sustainable Mediterranean Diet Cookbook: 110 Easy, Healthy Recipes to Reduce Food Waste, Eat in Season, and Help the Earth.
This unique take on the Mediterranean Diet offers eco-friendly kitchen guidelines paired with more than 100 recipes. A few examples of their tips are:
Reduce food waste by using the entire herb, keeping the skins on vegetables, saving the scraps, and repurposing.
Eat in season …For example, in winter, go for potatoes, carrots, etc.; in spring, opt for asparagus, peas, etc.
Buy more sustainable staple crops … ones that can help the soil where they are grown, like oats, legumes, and seeds for snacking.
Buy local – support the efforts of your area farmers and ranchers.
Grow your own!
Each recipe includes a Healthy Kitchen Hack, interesting recipe notes, and nutritional information.
Here are three recipes with their notes to sample:
Crispy Parmesan Green Beans
Deanna thought her favorite way to eat her less-than-favorite green beans was to char them under the broiler, but this preparation completely changed her mind. You won't believe that a recipe this simple can make basic vegetables become so irresistible!
The key to creating a coating that will stick to veggies (and fish and chicken, too) is to add some type of "glue" before the breading. Often a beaten egg is used, but we also like using Greek yogurt thinned with a little water for that tangy Mediterranean flavor.
Switch up the flavor by adding different spices to the coating, like za'atar, smoked paprika, sesame seeds, or any dried herb.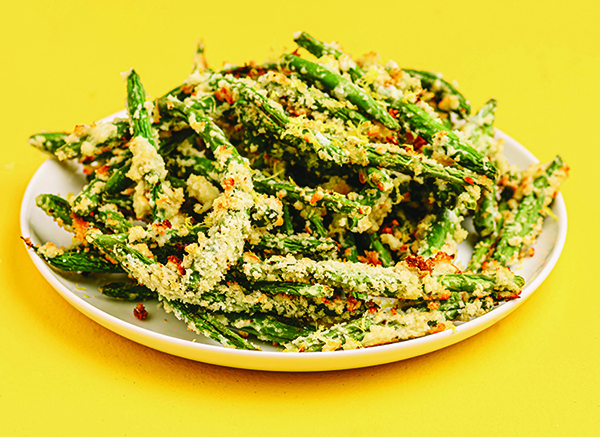 Crispy Parmesan Green Beans
Makes 4 servings
1/3 cup panko bread crumbs
1/4 cup grated Parmesan cheese/li>
1/4 teaspoon kosher or sea salt
1/4 teaspoon black pepper
1/8–1/4 teaspoon crushed red pepper
1/3 cup plain 2% Greek yogurt
1 pound green beans, trimmed
1 lemon
Arrange the oven racks to the upper-middle and lower middle positions. Preheat the oven to 425°F. Coat two large rimmed baking sheets with cooking spray.
In a large bowl, whisk together the panko, Parmesan cheese, salt, black pepper, and crushed red pepper. In a large bowl, whisk together the yogurt and 2 tablespoons water. To ensure evenly distributed coating, add half of the green beans at a time and gently toss, using your hands, until all the beans are coated.
Transfer the beans to the panko coating and again use your hands to gently toss until all the beans are breaded. Spread out the beans on one of the prepared baking sheets. Repeat the process with the remaining beans, spreading them out on the other sheet.
Bake for 8 minutes, then switch the top tray to the bottom rack and vice versa. Bake for an additional 3 to 5 minutes, until the beans are cooked through to your preference. Transfer the beans to a serving platter.
Using a Microplane or citrus zester, grate the zest from the lemon over the green beans. Cut the lemon into wedges and serve alongside.
Healthy Kitchen Hack: Though not technically a Mediterranean staple, panko bread crumbs are our go-to ingredient for any coating thanks to their flaky texture, which makes breaded foods taste lighter and crispier. But if you don't have panko on hand, you can swap in cornmeal, dried bread crumbs, or even crushed cornflakes. Or better yet, make your own bread crumbs with any stale bread (from sliced bread to pita) by toasting it in a toaster, toaster oven, or on a baking sheet in a 400°F oven (while you have the oven on for another recipe, to save energy). Cool the toasted bread and then blitz it in a food processor or blender until fine crumbs form. Store in a freezer-safe container in the freezer for up to 1 month.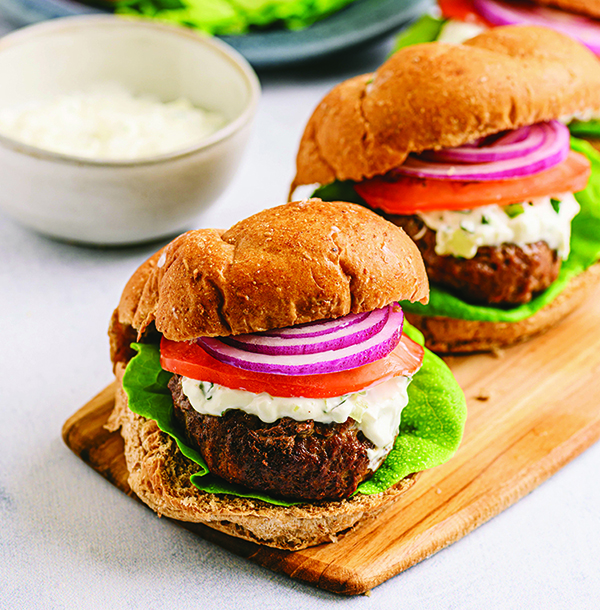 Stuffed Greek Lamb Burgers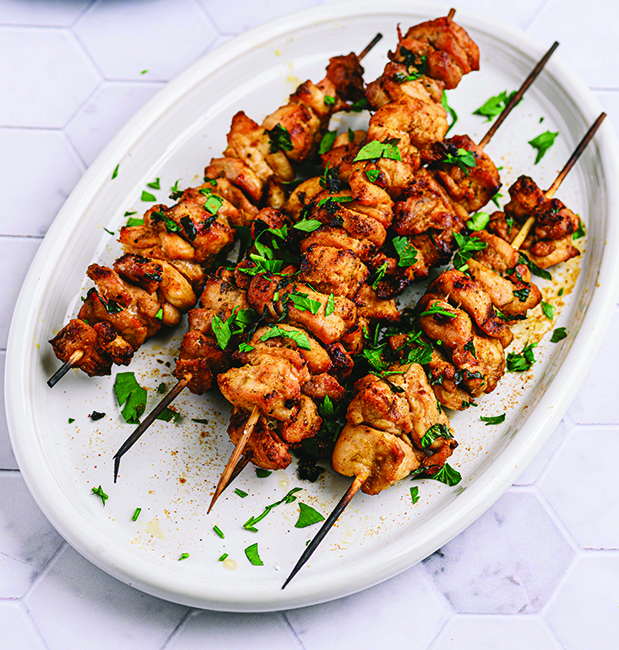 Harissa-Spiced Chicken Kebabs

News
You've probably heard of REI, Backcountry and even Dick's Sporting Goods as some great online retailers where you can…