26 total views
Details of above:
Rust-coloured wool scarf Chicatanyageshop || Light beige shacked H&M || Croissant hoop earrings || Boden || Tan leather bag JohnLewis&Partners || Auburn trousers Everlane || Tan leather pumps Everlane || New balance trainers JCrew.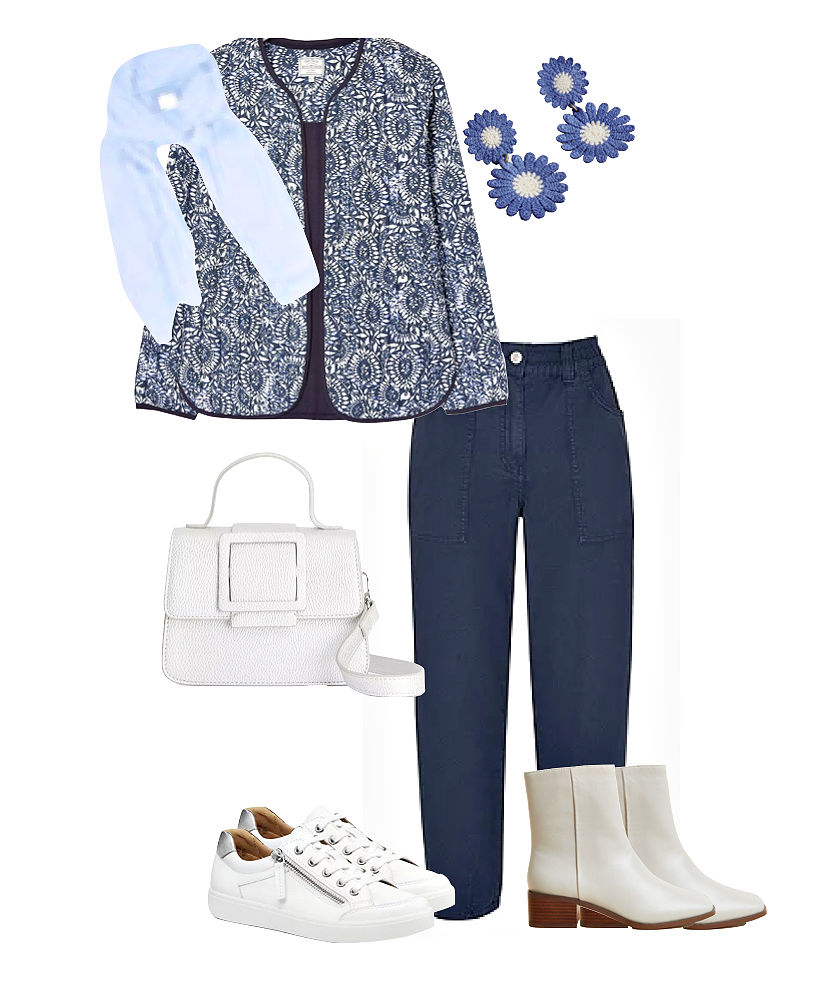 Details of above:
Lightweight wool scarf Chicatanyage shop || Blue printed jacket JohnLewis&Partners || Blue daisy earrings Boden || Small white handbag JohnLewis&Partners || Tessa navy casual trousers JohnLewis&Partners || White zip trainers MarksandSpencer || Cream boots MarksandSpencer.
A lightweight jacket ideal for early Spring. I wrote this post about a week ago and since then our weather has been all over the place. It is probably wishful thinking that it will settle down soon and we will get more sunshine. I am really bored of my raincoats and puffer coat and look forward to wearing some lighter-weight jackets soon. Some lovely ones are currently in the shops (a selection is at the bottom of this post). Sizes are selling out quickly due to stores not wanting to overstock.
Another reason that this post is slightly delayed is that my computer broke down and had to go and be repaired. The assistants at the Apple Genius bar were very helpful however the repair was complicated and took over a week. I am so reliant on technology these days, everything has become so digitally oriented that I felt quite bereft. I still had my iPhone for the basics but my eyesight is not that good these days and I have not mastered the trick of typing with both thumbs!
Anyway back to dressing for mercurial Spring weather. Below is a photo of me visiting the City of London last week. I am wearing my navy trench from Cos (they have a good range in a selection of colours). I noticed that most of the women in the City were wearing mostly black and the occasional navy. The dress code in the financial area of London is very formal and masculine in style.
Lightweight jackets ideal for early Spring:
Next week I am planning to publish a post on a very different subject to the ones I normally cover such as fashion, beauty, St.Tropez markets and Brocantes. It will be written by a great friend of mine who I worked with for many years. Part 1 will be the very uplifting story of her recent journey with cancer. In part 11 she will share some very practical hints and tips on how she managed to look the best that she could during this difficult time.
News
Attention all webheads: I have some good news from the world—or should I say worlds—of Spider-Man. The insane images…